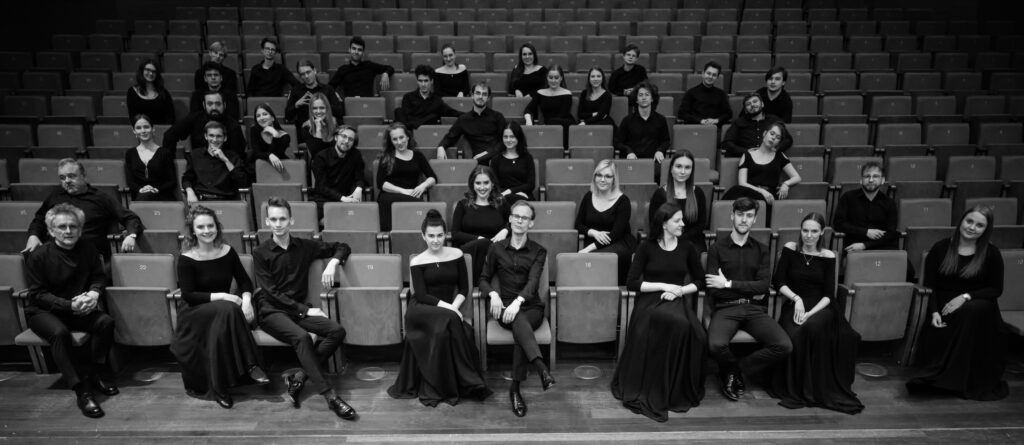 Paderewski Chamber Choir
(for Polish version click here)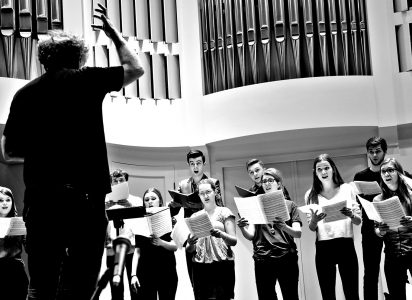 Paderewski Chamber Choir, the Chamber Choir of the I.J. Paderewski Academy of Music in Poznań is the youngest ensemble of its alma mater. Founded ten years ago (2012) by Professor Marek Gandecki, the choir is composed of students of various majors and specializations, including music education, instrumental studies, theory of music, conducting, composing, and church music. Their different education areas notwithstanding, they are united by a passion for making music together and discovering new, fascinating choral works.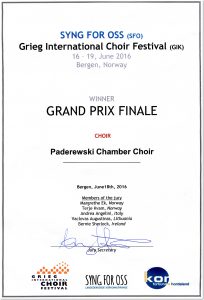 The choir is a unique ensemble. For the last ten years it has not only participated in numerous festivals but has been awarded first prizes at major choir competitions in Poland, including the most celebrated distinction for Polish choirs: the Jerzy Liban Grand Prix "Ruby Lute" at the 46th National Choir Tournament LEGNICA CANTAT in Legnica, Poland (2015). The choir also successfully appeared at the Grieg International Choir Festival in Bergen, Norway (16th-20th June 2016), which brought the Grand Prix, the First Prize in the contemporary music category, as well as the Second Prize in the sacred music category.

Repertoire
Shared discovery of the musical world of subsequent epochs is reflected in a diverse and fascinating repertoire of the choir. It features not only old music and the 19th- and 20th-century works composed by Francis Poulenc and Claude Debussy, but also those by contemporary composers, including Ēriks Ešenvalds, Paul Mealor, J. Aaron McDermid, Sydney Guillaume, Eric Whitacre, Ola Gjeilo, Marek Jasiński, Andrzej Koszewski, Katarzyna Danel, Andrzej Bielerzewski, Marek Raczyński, and Miłosz Bembinow. The choir performs a cappella pieces as well as vocal and instrumental forms by Antonio Vivaldi, Johann Sebastian Bach, Wolfgang Amadeus Mozart, Gabriel Fauré and Paul Mealor.
Listen to the newest album of the Choir
The artistic image of the choir is formed by: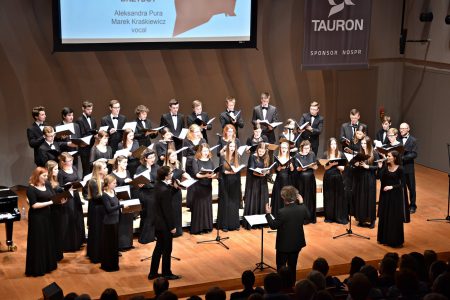 Prizes
GRAND PRIX
The Golden Diploma in the Contemporary Music Competition in the mixed choirs category
Grieg International Choir Festival, Bergen (2016)
GRAND PRIX
I Prize in the contemporary music category
II Prize in the sacred music category
46th National Choir Tournament LEGNICA CANTAT in Legnica, Poland (2015)
GRAND PRIX – the Jerzy Liban Grand Prix "Ruby Lute"
GRAND PRIX – non-official prize given by the prize jury consisting of members from the National Seminar for Choir Conductors
XXVI Stanisław Ormiński International Sacred Music Festival in Rumia, Poland (2014)
The Golden Diploma
VI National Competition ARS LITURGICA in Gniezno, Poland (2014)
GRAND PRIX
The Golden Diploma in the mixed choirs category
49th Jan Szyrocki International Choir Festival in Międzyzdroje, Poland (2014)
The Golden Diploma
XVI Choir Festival CANTIO LODZIENSIS in Łódź, Poland (2013)
GRAND PRIX
Festivals

52nd Jan Szyrocki International Choir Festival in Międzyzdroje, Poland (2017)
43th "Barborka" Academic Choirs Festival, Wrocław, Poland (2016)
Grieg International Choir Festival, Bergen, Norway (2016)
47th National Choir Tournament LEGNICA CANTAT in Legnica, Poland (2016)
IV International Festival of Organ and Chamber Music in Łuków, Poland (2016)
XVI Stanisław Kulczyński National Choir Conducting Competition in Poznań, Poland (2016)
I International Academic Choirs Festival "KoChAM" in Katowice, Poland (2015)
X Oratorio Music Festival "Musica Sacromontana" in Gostyń, Poland (2015)
XX Festival of Organ and Chamber Music in Drezdenko, Poland (2015)
XI International Music Festival SACRUM NON PROFANUM in Świnoujście, Poland (2015)
46th National Choir Tournament LEGNICA CANTAT in Legnica, Poland (2015)
VIII Edmund Szymański International Choir Festival in Murowana Goślina, Poland (2015)
Stanisław Ormiński International Sacred Music Festival in Rumia, Poland (2014)
VI National Competition ARS LITURGICA in Gniezno, Poland (2014)
IV Music Festival in Czarnków, Poland (2014)
Jan Szyrocki International Choir Festival in Międzyzdroje, Poland (2014)
XV Stanisław Kulczyński National Choir Conducting Competition in Poznań, Poland (2014)
"Barborka" Academic Choirs Festival, Wrocław, Poland (2013)
XVI Choir Festival CANTIO LODZIENSIS in Łódź, Poland (2013)
III Music Festival in Czarnków, Poland (2013)